Information On CS Manager (V1.2) Themes (UPDATED VERSION)
TERMS AND CONDITIONS (you must observe these first)
About the themes.
Installing themes.
Creating themes.

Overview.
Sound Details.
Image Details.
Font Details.
Distribution Details.

Troubleshooting & Important Information.
FAQs.
TERMS AND CONDITIONS
NO THEME WILL CONTAIN PORNOGRAPHIC, ABUSIVE, EMOTIONALLY DISTURBING, PROMOTION OF ILLEGAL ACTIVITIES, COPYRIGHTED/PATENTED MATERIALS, OR ANY SUCH UN-DESIRABLE CONTENT.
NO THEME WILL BE DESIGNED TO COMPROMISE THE FUNCTIONALITY OF THE PROGRAMS "CS MANAGER" & "CSM THEME EDITOR".
THE OUTPUT OF THE THEME CREATION UTILITY "CSM THEME EDITOR" SHALL NOT BE MANUALLY EDITED OR TAMPERED WITH IN ANY WAY WHATSOEVER.
THEMES CREATED ARE THE ENTIRE RESPONSIBILITY OF THE CREATOR AND THE PROPERTY OF THE CREATOR.
THE THEME CREATOR HAS THE RIGHT TO COPYRIGHT THE THEME THEY CREATED.
THEMES NOT BELONGING TO THE END-USER SHALL NOT BE TAMPERED WITH IN ANY FORM.
THE THEME FEATURE OF THIS SOFTWARE PACKAGE IS USED AT YOUR OWN RISK, I TAKE NO RESPONSIBILITY FOR ANY DAMAGES TO YOU, YOUR COMPUTER OR ANYTHING CLASSED AS BAD FROM THE USE OR MISUSE OF THIS FEATURE.
IF YOU UNDERSTAND AND AGREE TO THESE TERMS AND CONDITIONS, THEN PROCEED AT YOUR OWN RISK, OTHERWISE, DO NOT GET INVOLVED WHATSOEVER, AND DO NOT GET ANYONE ELSE INVOLVED.
ABOUT THEMES
A theme is a customized look and feel to a visible object, such as the CS Manager application. A theme can consist of many elements, though, CS Manager has 3 elements as a part of its theme (images, sounds and fonts). I have added the feature to the application in the hopes that you can be satisfied with the interface.
WARNING: There is a theme named "Default", do not delete it or the program will not work.
INSTALLING THEMES
The theme files are located in a folder in the "\themes\" folder in the application path (usually "C:\Program Files\CS Manager"). This particular folder is the name of the theme
A theme package will usually be contained in a compressed .ZIP or .EXE archive file, and should be pre-set to unzip straight into the default application folder... If it is pre-set to unzip into the applications theme folder, and you have installed CS Manager to another location, then the chances of you getting trouble from this is approximately 99.9%. Otherwise, everything should be fine, the author of the theme might be kind and leave a readme.txt file in the package you obtain.
The chances of you staggering across a buggy / dis-functional / disturbing theme are quite low, however, if you do happen to come across such a theme, I recommend you discontinue its use, as it could cause other problems, which are not limited to the applications functionality, or your computer system...
CREATING THEMES
As mentioned before, themes consist of 3 elements:
Sound : These are .wav files with specific file names (eg, click.wav), the file names are related to the action which has to be taken for them to be played.
Images: These can be in several formats(.BMP, .JPG, .GIF, .WMF, .EMF, .ICO), I recommend BMP, JPG or GIF file formats, as they are a high standard file format for all 32bit platforms (such as MS windows). Images are used for 2 things, 1 Image file for the window backgrounds (this image is not stretched across the windows), and individual images for the buttons(22 buttons total).
Fonts: These can be modified with the utility supplied (CSM Theme Editor, pictured below), it modifies 5 aspects of the application, the textbox & label font colour and background colour, and the list boxes font colour & background colour. The utility is very easy to use, and creates a text file named "style.txt", which should be in the theme folder. The last thing of the application modified is the font name, be aware that if you specify a font name in which the user of your theme does not have installed on their system, the users font will NOT be the font you specified!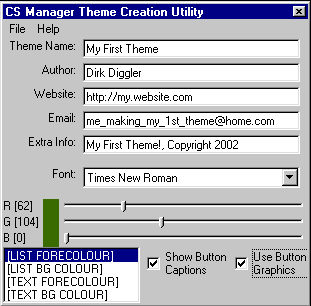 CSM THEME EDITOR V1.0 - Compatible with CS Manager V1.2
Sound Details:
| | |
| --- | --- |
| Filename | Description |
| aborting.wav | Occurs when aborting checking a server or servers. |
| all_servers.wav | Occurs at the beginning of checking all servers. |
| click.wav | Occurs when clicking buttons. |
| complete.wav | Occurs when a server has been checked or all servers have finished being checked. |
| export.wav | Occurs when exporting servers. |
| import.wav | Occurs when importing servers. |
| init.wav | Occurs when application splash screen closes. |
| launching.wav | Occurs when connecting to a server or launching a demo to watch. |
| paramexec.wav | Occurs when parameters are executed. |
| server.wav | Occurs before an individual server is being checked. |
ALL sounds are optional. The application freezes while it plays a sound, therefore, you must try to keep sounds such as click.wav very short (<300 MSecs). The only supported format for the sounds is PCM WAV, I haven't tried all the different frequncies, the ones the CS Manager Default theme uses are 44 KHz PCM (CD Quality).
Image Details:
ALL images should have a ".bmp" extension, no matter what format they are in...
The image for the window backgrounds is not optional, can be any size you wish, and must be named "form_bg.bmp".
Button images are optional, and function very different, each button in the program has an image file, and when using the theme creation utility, you may specify whether buttons retain their text or show it(e.g. your pictures might already have the text on them). There is a total of 22 buttons, which are indexed as follows...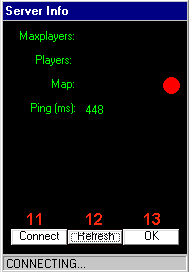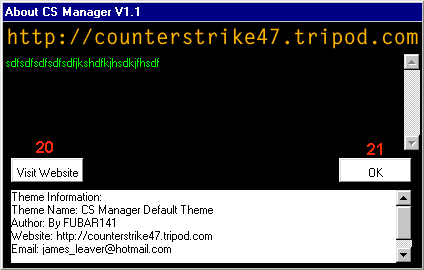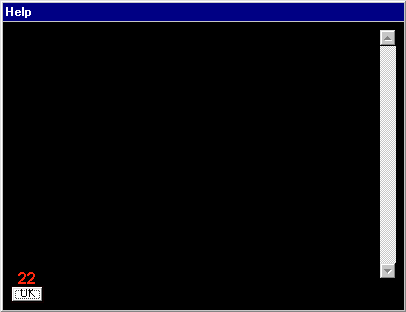 Let me start by telling you that the images can be whatever size you like and can be any of the supported formats, must also end with ".bmp". The file naming system I have chose to use is dynamic, observe the first button (first picture, #1), the filename for this is "button_bg1.bmp". Now let's look at the second button, the filename for this is "button_bg2.bmp". By now you should understand how to name your button files.
There should be a total of 22 .bmp files: button_bg1.bmp... button_bg2.bmp... button_bg3.bmp... and so on... All the way to button_bg22.bmp.
You use the theme editor to enable/disable button images and button text in your theme, however, you do not have to use ALL 22 images, you can skip some if you like, the final output 'might' look a bit odd though...
Font details:
You have 5 choices, and these choices really do make the theme 'a theme'. It can turn out nice, or nasty!
Foreground colours.

1: Listbox Font Colour.
2: Textbox, Label and ComboBox Font Colour.

Background colours.

3: Listbox Background Colour.
4: Textbox, Label and ComboBox Background Colour.

Font colours.
Distinguish list and text + labels by what they appear as, the lists are lists, anything else is treated as a text item, excluding buttons.
You will be using this utility to achieve your results: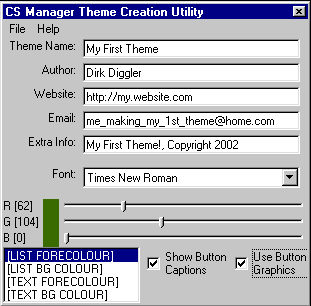 Basically, you have your Red, Green and Blue(RGB) values defined using the 3 sliders, the list(bottom left) contains the object type you wish to modify the properties of, select the object in the list to start setting its RGB values.
The font property applies to all available controls.
When you finish your theme style, you save it as a text file named "style.txt", save this file with the rest of your sound and image files. This file has to be among all the other sound and/or image files when the theme is used in CS Manager, and has t be named "style.txt", without this file, your theme will not work out at all!
With this utility you can also load the style.txt file and edit it.
Distributing your theme:
All the files you have at the end of creating your theme can be bundled into a .zip file, with a target path of either "C:\Program Files\CS Manager\themes\your theme name" OR "\your theme name". "your theme name" is the name of your theme, it will appear in the Dropdown list in the config panel as the name of the folder you specify, therefore it can be easily identified by the end-user...
Please include a readme.txt to accompany your theme files, this could include information regarding lists of other themes you have created or a guide to installing it.
TROUBLESHOOTING & IMPORTANT INFORMATION
If you encounter bugs, goto the website http://counterstrike47.tripod.com and use the services provided.
It is against the terms of the licence agreement to manually edit the "style.txt" file, so don't come running to me if it screws up!
If a theme loads and is not functioning correctly, it means it is damaged, delete its folder in the "\CS Manager\themes" directory, next time the program loads, it will load the "Default" theme...
The picture of the theme editor is not its whole, I added a "test" button, this will change the controls on the program to your theme style settings...
You may observe the themes I've already included with the 1.2 release of CS Manager, to give you a decent idea of what standards to go by for making your themes...

bg_image.bmp = 600 x 500 pixels.
button images = 75 x 75 pixels.

If you're thinking of making black window backgrounds, then note that you may use a black BMP image of 1x1 pixels, the forms' default background colour is black anyway... This will save a reasonable amount of bytes for your final theme.
Regarding fonts, try to stick with these fonts, because they ship with windows and InternetExplorer:

Courier
Courier Bold
Courier New
Arial (Nice font...)
Arial Black
Arial Narrow
Times New Roman
Comic Sans MS
Technical
Arbadi
MS Sans Serif
Gothic
Garamond
Lucida Console (My favourite)
Monotype Corsiva
News Gothic
Sans
Serif
Serif Bold
Sharp (Nice font...)
Tahoma
Terminal (Another favourite of mine)
Verdana

If you decide to use a custom font, then at least distribute it with the package, providing you have premissions over the font, because it might be copyrighted/patented, and don't forget the readme.txt if you decide to do so.

Email your themes to me and I'll put them on the site, that is, if they pass my test.
FAQs
Q: What is the size limit for my theme/skin packages?
A: I would recommend less than 500 KB.
Have any questions? Contact Me.
That's it really, I'll be updating this document, and the theme feature most likely, so as usual, stay tuned!